Qantas Premium Economy - Airbus A380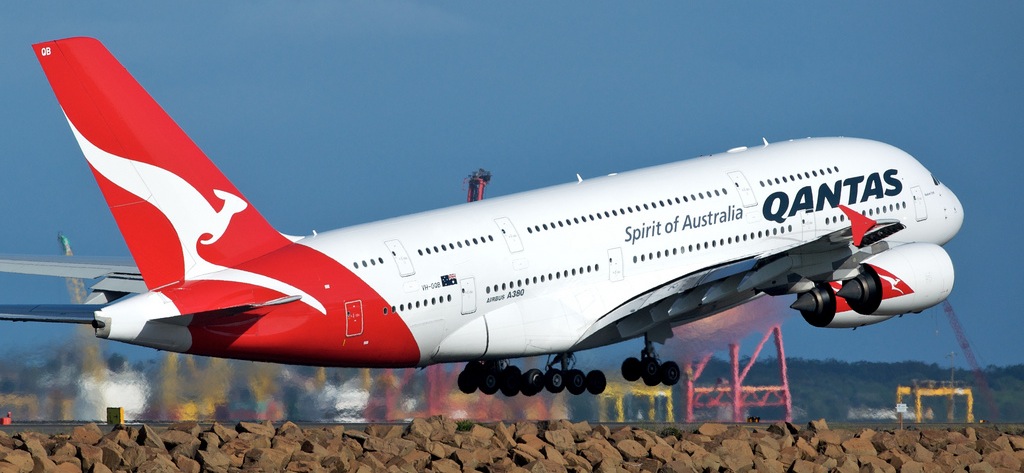 Photo of Qantas Airbus A380 by flickr user: BriYYZ
While I normally fly business class on long-haul Qantas flights, I took advantage of a side trip to Singapore while visiting Australia to try out Qantas' A380 Premium Economy product.
Qantas has two A380 configurations. Premium economy is on the upper deck behind business on both configurations, but there is a small section of economy behind premium economy on one.
For many airlines, premium economy offers the same service and seat as economy with additional legroom. I wasn't sure what to expect from Qantas, but in the end I was pleasantly surprised. If I wasn't able to get a mileage award, I would likely favor premium economy over business given that it is typically half the price.
Service
With two flight attendants to serve under forty passengers, the premium economy flight attendants are able to be very responsive to your needs and the service strikes a very nice balance between economy and business.
A great example of this is the meal service. In business, the flight attendants will take your food order before they begin their service. The more obvious reason is that this allows for a more personalized service, where they bring a tray fully prepared for you from the galley. The other reason is that they don't heat your meal until you have placed your order. If you decide to eat your meal later in the flight, they are easily able to meet your request.
In economy, they heat all of the meals at the beginning of the flight. They then load all of the meals onto mobile trays and serve you at your seat. Thanks to my American Airlines Executive Platinum status, I was able to eat a late lunch in the Qantas First Class Lounge. When it came to mealtime on the flight, I wasn't hungry for my meal. I asked to delay my meal service, and they informed me that they could hold it for 60-90 minutes but it would be un-hygienic to serve the meal later than that.
I wasn't hungry for another four hours, so when I rang the call bell I expected to be told they could offer me a snack but not a full meal. It turns out that the flight attendant found another meal, either from business class or perhaps one of the pilot meals, and was able to heat it up and serve me. Needless to say, I was pleasantly surprised and quite happy with her willingness to go above and beyond.
I grabbed a light dinner of Char Siu and Indonesian cakes at Singapore's Changi Airport before my return flight to Sydney. Since I knew I wouldn't be hungry for the meal service, I asked the flight attendant if it would be possible to not heat my meal until later in the flight. She asked me which meal I wanted, and said she was happy to hold it for me. In the end, I didn't get hungry for quite some time and decided to just wait for the breakfast service.
All in all, I was very happy with the premium economy service. From my perspective, the service is almost as good as what you will receive in Qantas business class.
The Seat
The design of the premium economy seat is much closer to the economy seat. There is not much space between adjacent seats, the seat does not recline to a flat surface, and there is no storage built into the seat.
Overall, the Qantas premium economy seat strikes a nice balance between business and economy classes. The premium economy seat is 19.5" wide, compared to 21.5" and 18.1" in business and economy respectively. The premium economy seat reclines 9". I would have prefered a few more inches of recline, but it wasn't too bad. Premium economy offers an additional 7-11" of legroom over economy, which leaves every seat with a comfortable amount of space.
The seats in the premium economy cabin are in a 2-3-2 configuration, which offers nice seat options for couples and doesn't leave anyone needing to climb over multiple people to get to an aisle.
Seat Options
I flew the A380 configuration that has premium economy at the very back of the upper deck. In this configuration, row 38 is an exit row that loses the A/B seats but gains legroom for the remaining five seats. In my opinion these seats are the best in the cabin, but they aren't without some quirks.
38 DEF, the three middle seats, have enough legroom that you wouldn't be able to reach the seatback pocket in front of you with your seatbelt on, but not enough legroom to have people use the area as a pass through. It would be easy enough to step over the aisle seats if you were in the middle, although my preference would still be for an aisle.
38 J has an incredible amount of legroom, perhaps six feet, but loses the storage the seat in front provides. Since there are no storage areas in the seat, there is no storage at all for 38 J. You will need to hold things in your lap or go up to the overhead bin when you need something.
38 K is the best seat of the five. You still have an incredible amount of legroom, but you gain a side storage bin that can hold a tremendous amount. The only downside is that there is one power outlet shared with 38 J, so you will need to be nice to your neighbor on the long flight.
The only seats I would avoid in the cabin are 39 DEF. There is a privacy panel next to 39 D that screens the seat from the lavatories. When the person in 38 D reclines, there isn't enough room for the person in 39 D to access the aisle. Additionally, the overhead bins are smaller over the back two rows so there is a higher likelihood that you will need to put your bag a little forward in the cabin.
In the other A380 configuration, row 24 is an exit row. It appears to offer the same benefits as 38 in the configuration I flew, although I would guess 24 DEF don't have quite as much legroom as row 38 has on the other configuration.
Seat Maps
Qantas does provide seat maps on their website, but as is often the case I prefer to use the Qantas seat maps on SeatGuru instead. On SeatGuru you can find more detailed advice for the seats that might be available on your flight that I didn't mention in this article.
comments powered by

Disqus