The "What I carry" series
I've flown between 100,000 and 120,000 miles a year for the past four years between my personal and business travel. Needless to say, I've spent a lot of time focusing on what I bring with me (e.g. my packing list) and what I bring it in (e.g. bags, packing aids, etc).
The last time I checked a bag during my business trips was over two years ago, and that includes many one-week trips and a couple of two-week trips. It wasn't too difficult for me to reduce down to one bag, but it will take some effort if you like to have a completely different outfit for every day. For example, I will only take a couple of pairs of pants for a week-long trip, but I know some people wouldn't want to do that.
There are many benefits to not checking a bag. The obvious benefit is that I greatly reduce the risk of losing my baggage if the baggage is with me in the cabin when I travel. Less obvious is the time saved by not waiting for baggage to come out at the baggage carousel, which is time I'd rather use to get home and see my family or to settle into the hotel room.
Of course, many people are now beginning to limit the amount they bring with them due to new airline fees for checked and carry-on baggage. I fly enough that my status with the airlines usually lets me check at one or two bags for free, but I love the convenience of traveling with only a carry-on bag.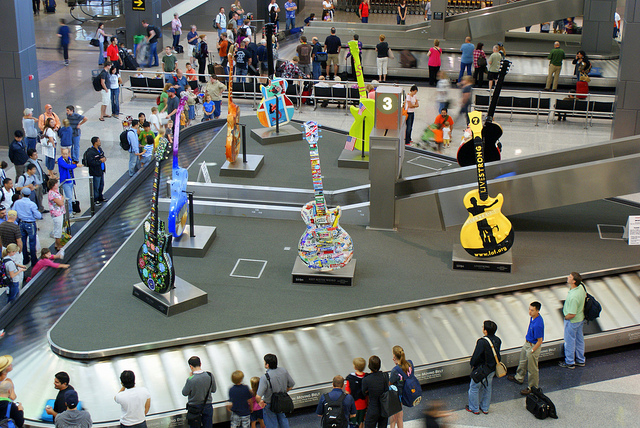 Waiting for your bag while I'm on my way... Photo by flickr user: xfile001
There are many great resources on one-bagging travel and how to think about what you need versus what you want. Two great resources are OneBag.com, which focuses on the process of getting down to one bag, and One Bag, One World, which focuses on gear reviews and the one bagging lifestyle.
Given these great resources I'm not going to go over the one-bagging method or lifestyle, but instead focus on the products I've tried out. Most of these products are ones I use today, but a few will be products I tried out and decided didn't work for me. I will update this post as I add reviews for the items in this list.
I will focus on bags and other packing-related items:
As well as some non-packing items that I always bring with me:
First Aid kit
Maratac AAA Flashlight
CountyComm tools
comments powered by

Disqus