Review: Tom Bihn Empire Builder
The Empire Builder was my first foray into Tom Bihn products. I bought the Empire Builder when I was still using a Brookstone four-wheel spinner suitcase and wanted a second bag to bring along that could slip over the suitcase's handle.
The Empire Builder is a relatively large bag. It has a volume of 22.5 liters, which is 2/3s the size of my Tom Bihn Tri-Star carry-on bag, and measures 18.25" x 12.75" x 7". I wasn't sure if I wanted a bag as big as the Empire Builder once it arrived so I then ordered the Zephyr, which is a smaller version of the Empire Builder.
In the end I decided to keep the Empire Builder because it had the added flexibility of being useful as my only bag for a couple of days trip.
The Empire builder has three small pockets on the flap, which I used to store my earphones and any travel documentation I needed such as my passport and boarding passes. Behind the flat is the main organized area of the bag. There are small pockets sized for cards, small notebooks, and pens along the top of the section, and then there is both a deep open pocket and a long zippered pocket. I could easily fit all of my cables and other electronic odds and ends in the two pockets, with enough room leftover for either my iPad or my toiletry bag.
There are two plastic O-rings sewn in to this organized area. The O-rings can be used to attach a variety of Tom Bihn accessories, either directly or using an 8" or 16" key strap. I use several of the smaller sized accessories to keep things organized, along with a pair of Tumi pouches which also have O-rings attached to them. There is another O-ring sewn into the zippered pocket as well.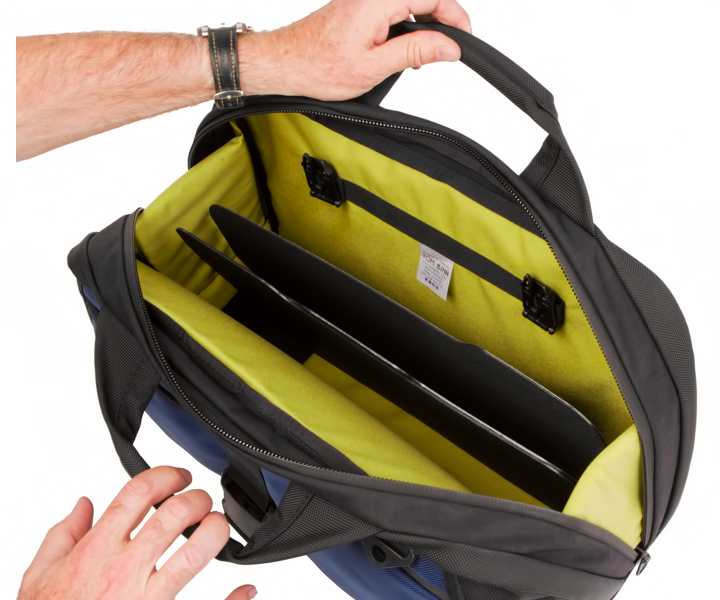 The main compartment of the Empire Builder will swallow most anything you throw at it. It comes with two plastic dividers to hold folders in place, but I removed those pretty quickly. Since I don't use a Tom Bihn laptop case, I also removed the Annex Clips as they are only useful if you want to secure one of their laptop cases inside the bag. I could easily fit my 13" Macbook Air in a Waterfield Design Laptop SleeveCase, with plenty of room leftover for my iPad and some magazines. If I was using it as an overnight bag, I would put my laptop, clothing, and toiletry bag in the main compartment. The iPad would shift to the deep front pocket, and the magazines would shift to the back pocket.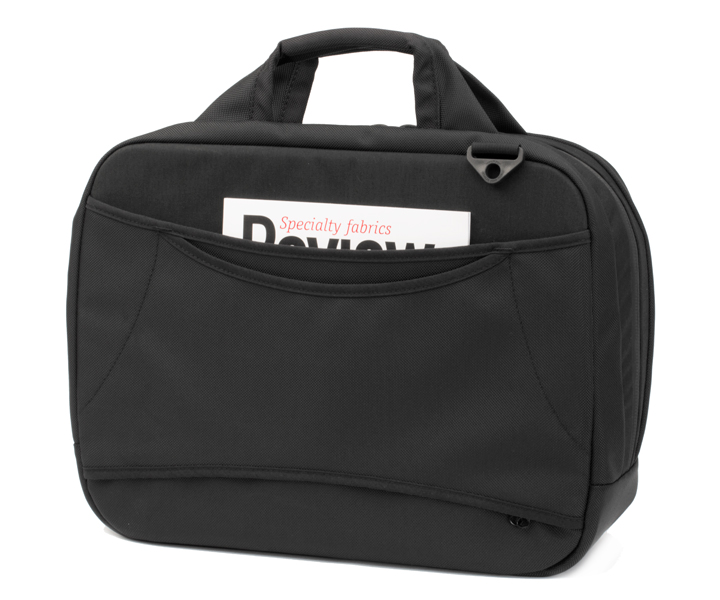 The back of the Empire Builder has two pockets. The larger pocket can hold a few magazines or a newspaper. The smaller pocket serves two functions. You can close the zippered bottom to use it as a pocket to hold other paperwork, or you can open the zipper and slide it over the handles of a wheeled suitcase.
In my experience, it worked well as a pocket but it was just ok over the handles of my Brookstone suitcase. The opening is large enough that the Empire Builder can shift around a bit too much, and closing the zippers up only offered a temporary relief. It probably works better on suitcases with wider handles than the Brookstone to go around.
While you can carry the Empire Builder by bringing the two handles on the top together, I recommend using Tom Bihn's Absolute Shoulder Strap. There are two attachment points for the strap on the top of the bag, and the strap is very comfortable to use on either one shoulder or across your body. I found that the strap usually ended up sitting in a way that required me to pick it up and move it out-of-the-way to open the bag, but that was a minor inconvenience.
While I was still using my Brookstone suitcase, I was extremely happy with the Empire Builder. It worked well as a second bag to put at my feet, and it could be used by itself for a short trip. Eventually I realized that I no longer wanted to use a wheeled suitcase, and bought Tom Bihn's Tri-Star carry-on bag instead. The Empire Builder is too big to use as a second bag to the Tri-Star, so it now permanently lives in my closet. Even when I take an overnight trip, I grab the Tri-Star instead of the Empire Builder as I like the ability to carry it as a backpack if I need to walk long distances.
Ultimately I have no issues at all with the Empire Builder and I would recommend it to anyone looking for a bag like it. My needs have changed, and as a result it is no longer the right bag for me. The reason I haven't yet found it a good home is that I can't yet bring myself to let it go.
comments powered by

Disqus