Noam Freedman's Poker Experiences, Adventures, and Results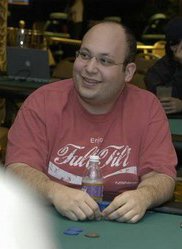 In the beginning…
I first stepped into a casino to play poker in late 2002. On one of my early trips, I decided to play in my first poker tournament… a $300 buy-in No Limit Texas Hold'em tournament. There were close to 500 people in the tournament and despite never having played no limit before I ended up in approx. 50th place. I didn't win any money, but I was excited with my results. I decided to play the $500 buy-in tournament the following week and busted the final table in 6th place out of almost 250 people. I won $5020 and was hooked.
Since then I've traveled quite a bit for poker tournaments. I've played in tournaments in Atlantic City, Los Angeles, Tunica, Aruba, Sydney, and of course Las Vegas.
Poker Results
There are many poker sites that attempt to track tournament results, but they only report the "official" results and not any deals that were struck amongst the players. Below you will find a table of my tournament cashes over the years.
| Date | Series | Event | Entries | Position | Gross Win |
| --- | --- | --- | --- | --- | --- |
| June 16, 2016 | World Series of Poker | $3000 NLH 6-Handed | 1,029 | 22 | $19,449 |
| June 2, 2010 | World Series of Poker | $1500 NLH | 2,341 | 215 | $2,844 |
| February 7, 2009 | Foxwoods Mega Stack Challenge XI | $500 NLH | 249 | 5-way chop | $16,807 |
| June 20, 2008 | World Series of Poker | $2000 PLH | 605 | 26 | $6,606 |
| June 16, 2007 | World Series of Poker | $1500 NLH | 2,315 | 6 | $82,239 |
| April 28, 2007 | World Series of Poker Circuit - Las Vegas | $500 NLH | 616 | 1 | $70,000 |
| April 14, 2007 | Foxwood's weekly tournament | $500 NLH | 86 | 4-way chop | $6,940 |
| August 2, 2006 | Bellagio Cup II | $1000 NLH | 462 | 49 | $1,197 |
| September 30, 2005 | Aruba Poker Classic | $500 NLH | 145 | 5-way chop | $10,620 |
| July 8, 2005 | Ultimate Poker Challenge - Las Vegas | $500 NLH | 146 | 15 | $1,060 |
| January 14, 2005 | World Series of Poker Circuit - Atlantic City | $500 NLH | 172 | 3 | $8,600 |
| June 18-19, 2003 | California State Poker Championships | $1000 NLH | 177 | 7 | $5,310 |
| May 6-7, 2003 | World Series of Poker | $1500 NLH | 531 | 12 | $8,500 |
| Nov 1, 2002 | World Poker Finals | $500 NLH | 247 | 6 | $5,020 |